The most important aspect of creating an artificial grass lawn to the highest standards is preparation. There are no shortcuts to correct procedures. When the artificial grass is installed to our standards and approved methods a seven year warranty is issued for your peace of mind.
When commissioned to install artificial grass, we ensure the highest grade materials are used. Each job is unique and several key factors affect what products are used.
For instance we take into consideration the following:
Ground stabilization
Drainage requirements
Access
Creative edge finish
Artificial grass softness
Wear and tear – children,
Our primary concern is for the customer's specific requirements and needs. The installation department at Forever Green offers the highest quality service to suit your individual needs with a seven year warranty. Please feel free to browse through our artificial grass installation images below.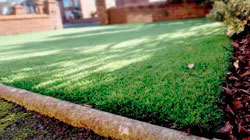 Creative Lawn Edge Finish
The artificial grass borders are cut according to the shape of your garden. Our installation team ensure the edges of your lawn are consistent and flush with any obstacles such as trees or stone paving. Grass cutting has to be correct first time to prevent waste and precision is crucial for your artificial lawn to impress.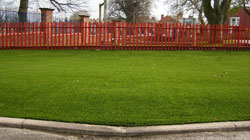 Artificial Grass Seaming
Artificial grass is available in two and four metre widths. For a professional installation, the rolls of grass glued together at the seams must be accurately aligned. The team at Forever Green have the experience to hide these seams thus giving the appearance of a realistic grass lawn.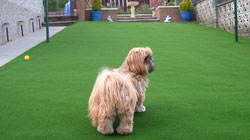 Durability
Some artificial lawns are used intensively such as for dog runs or sport. It is especially important for such lawns to be installed correctly in order to prevent seams or edges becoming loose. With an ever increasing demand, artificial grass has proved itself to be a superior and durable outdoor flooring surface.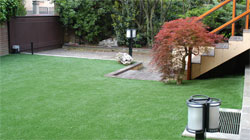 The ForeverGreen Treatment
Enjoy a superior service from the artificial grass professionals with experience. Simply sit back and relax while our installation team transforms your garden in a matter of days. See our artificial grass gallery pages for more examples of perfect lawns from Forever Green.